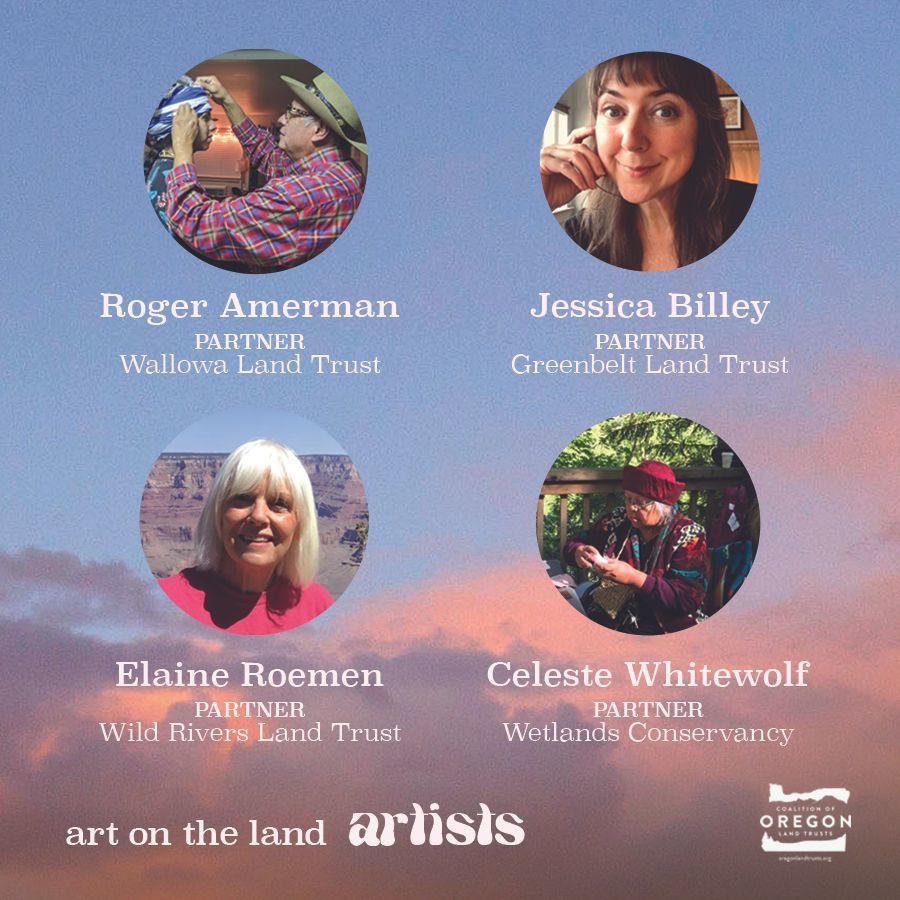 December 3, 2021
PRESS RELEASE
Contact: Kelley Beamer, Executive Director, Coalition of Oregon Land Trusts
503.348.9612 | kelley@oregonlandtrusts.org
Oregon artists supporting clean drinking water for Warm Springs
Art inspired by four Oregon landscapes to be raffled off in December
Four Oregon artists have created new and unique works of art inspired by Oregon landscapes to be raffled off starting today, with all proceeds benefiting the Chúush Fund. The Chúush Fund supports efforts by the Confederated Tribes of Warm Springs to restore clean water on their reservation.
The raffle is called Art on the Land and can be found at artontheland.squarespace.com.
The Warm Springs Tribes declared a state of emergency in 2019 over lack of access to clean drinking water, which requires an estimated $200 million in repairs.
"All of the art being raffled off celebrates the interconnectedness of art, people and nature," said Kelley Beamer, executive director of the Coalition of Oregon Land Trusts (COLT). "One of the ways people and nature are connected is through water. So it made sense to donate the proceeds to support the Warm Springs' effort to restore clean drinking water to people on their reservation."
Throughout October and November, artists visited a property in their area that is currently protected and preserved by a local land trust, drawing inspiration from the landscape to create a unique piece of art. Art work includes:
A traditional beaded belt bag by Roger Amerman. This belt bag includes complex geometric motifs and elements that characterize the Nimiipuu Peoples, and colors unique to Tribal beadwork of North America. Amerman's piece is inspired by East Moraine Community Forest, which is a project of Wallowa Land Trust in Enterprise, Ore.
A woodcut print titled, "Fender's Blue and Two Horses." It is inspired by Lupine Meadows, a project of Greenbelt Land Trust near Corvallis, Ore., and its rich and beautiful tapestry of plants, animals and insects – specifically the endangered Fender's Blue Butterfly. This piece is by Jessica Billey.
An oil painting depicting an iconic view on the Oregon Coast, specifically where the forest spreads to the cliffs and overlooks the ocean. Painted by Elaine Roeman, it is inspired by Nesika Preserve, a project of Wild Rivers Land Trust near Port Orford, Ore.
Three distinct baskets by Celeste Whitewolf including a paper twist gathering basket, a gourd basket, and a basket featuring an antler in honor of the deer who make their home at Hart Wetlands Preserve. Hart Wetlands is a project of The Wetlands Conservancy near Tualatin, Ore.

All of these unique and inspirational pieces are being raffled off right now through December 12. To learn more and buy a ticket, visit the Coalition of Oregon Land Trusts' website here.
What is a land trust?
A land trust is a nonprofit that works with individuals and communities to conserve land. 
About the Coalition for Oregon Land Trusts
The Coalition of Oregon Land Trusts (COLT) serves and strengthens the land trust community in Oregon. At COLT, we build connections and advance policies that help protect our natural world—our water, wildlife and open space—for all people, forever.
This work helps our coalition members—30 conservation organizations around the state—do what they do best: protect wildlife and wild places, defend working farms and forests, provide recreation and parks, drive climate solutions and science, champion clean water for all and engage communities to protect our natural world.