Our Story
In 2000, the Wild Rivers Land Trust (originally known as Elk River Land Trust) began with a handful of like-minded residents passionate about conserving land along the Elk River. Their goals were the same as ours are today—to engage our communities in the preservation of our natural world in order to better ensure a healthy, sustainable planet for all. The future of our natural resources depends on all of us working together to preserve what is wild and restore the rest. In 2014, we changed our name to Wild Rivers Land Trust to reflect a significant expansion of our service area. We expanded again in 2018, to cover all of Coos and part of southern Douglas counties to bring our conservation services to people and communities that needed them. The Land Trust currently serves 2.3 million acres on Oregon's south coast throughout Coos, Curry and southern Douglas counties.
In 2018, Wild Rivers Land Trust began the process to become a fully accredited land trust through the Land Trust Accreditation Commission, the nationally-recognized body that accredits and reviews land trust actions, standards and practices. This is a rigorous process, and the Commission announced in August 2019, that WRLT became one of just over 400 land trusts to achieve that distinction. Accreditation has strengthened the Land Trust and new partnerships and land acquisitions have happened as a direct result of being accredited. It also provides landowners, funders, conservation partners and communities the assurance that Wild Rivers Land Trust operates under the state-of-the-art land conservation standards and practices.
VISION | We envision a future where clean water, abundant salmon runs, sustainable working lands, and prospering rural communities forever define Oregon's southern coast.
MISSION | To keep the irreplaceable lands and waters of the southern Oregon coast forever wild and abundant. 
The Land Trust provides the leadership and education for conservation—all we need is your participation as partners in keeping this place wild and abundant. Please join with us so that we can leave this planet in the best possible shape for a bright and sustainable future.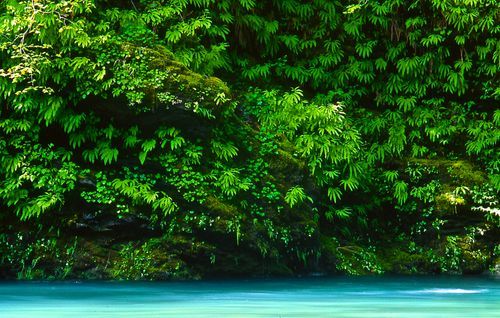 Wild Rivers Land Trust believes our enduring natural environment, economic prosperity, and rural coastal culture are interconnected, as are all of us. From Tenmile Lakes to Brookings, the Land Trust conserves and stewards places people and wildlife depend on for clean air, fresh water, and healthy habitat. And by partnering with willing landowners, we help working farms, forests, and ranches preserve their legacy for future generations.

"Those who contemplate the beauty of the earth find reserves of strength that will endure as long as life lasts. There is something infinitely healing in the repeated refrains of nature—the assurance that dawn comes after night, and spring after winter." — Rachel Carson