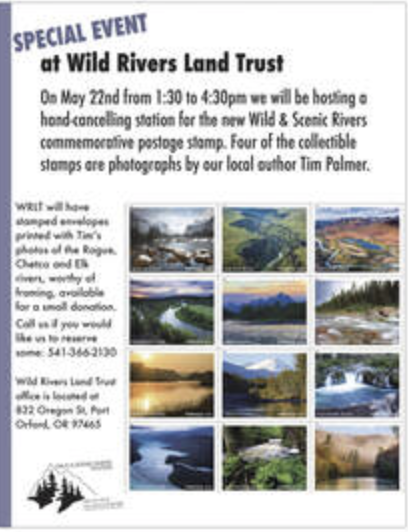 NEWS
USPS Issues New Wild & Scenic Rivers Stamp Series

​Our Wild & Scenic Stamp Series reveal went well and we thank those who participated. If anyone is interested in purchasing sets of stamped envelopes, please let us know by calling our office: 541-366-2130. They are still available.
​Wild Rivers Land Trust hosted a hand-cancelling station for the new Wild&Scenic Rivers commemorative postage stamp on May 22nd from 1:30-4:30 at our office - 832 Oregon Street/Hwy 101, Port Orford.
Four of the collectible stamps are photos taken by our local friend and author Tim Palmer. Join us for this very special event!
For all you collectors of everything "Port Orford", we are selling envelopes featuring 4 of Tim's photos with a stamp and hand cancelled, worthy of framing. We still have sets and will reserve some for you.
Cost for a set of 4 envelopes is $20 or individually $7 each. In case you are thinking about having your collection framed, our friend and neighbor Carol Malley at Uptown Frames does a beautiful job of custom framing - she's right next door.