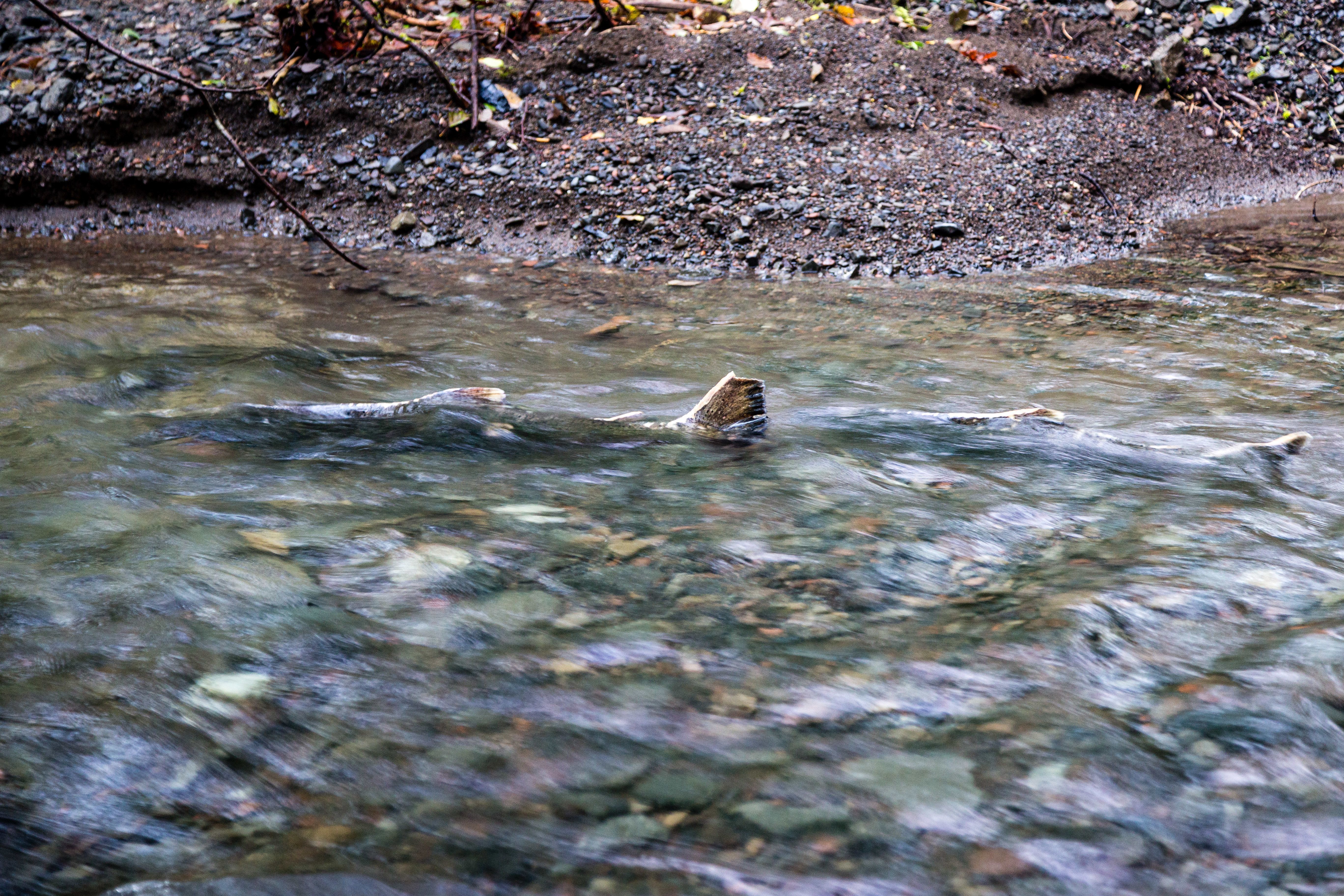 NEWS
Bringing salmon back to Bear Creek
Restoration creates widespread impact in the Elk River Watershed
Just a few years ago, efforts to find salmon spawning along the 217-acre Bear Creek property came up empty. Today, restoration efforts conducted by the Wild Rivers Land Trust are bringing new life to the creek – and the entire Elk River Watershed. After working diligently to secure the Bear Creek Natural Area, Wild Rivers Land Trust went one step further to head up a hands-on habitat restoration project along Bald Mountain and Bear Creeks. With funding from the South Coast Watershed Council, we were able to place 50 logs in Bear Creek, and plant riparian trees along the stream banks. 
When staff from Wild Rivers Land Trust and the South Coast Watershed Council returned to the restoration site a year and a half later, they were delighted to see the streams teeming with salmon. The groups recorded 100 adult salmon in and near the restoration site in December, 2015. Ten of these salmon were the endangered Coho. This amount of salmon hasn't been seen at the site in decades.
Wild Rivers Land Trust's habitat restoration projects not only resulted in demonstrable increase in salmon, it also supports habitat for steelhead and cutthroat trout in Bald Mountain Creek. Bald Mountain Creek is considered the most important tributary for steelhead rearing and production in the entire Elk River watershed. The entire forest will thrive as bears, eagles and scavenging species distribute nutrients from spawned salmon within the Bear Creek Natural Area. The natural area is also important for marbled murrelet recovery. The property contains a murrelet nest tree and is surrounded by old growth forests on bordering land.
Prior to the restoration of Bear Creek Natural Area, decades of clearcutting and roadbuilding eroded the banks along Bear Creek and Bald Mountain Creek, causing landslides to crash into the streams. A study from the Oregon Game Commission in the mid-1960s indicated that Bald Mountain creek historically contained Coho and Chinook salmon. But an increase in sediment and elevated stream temperatures likely contributed to their decline. "The Bear Creek property was infamous when I first heard about it in the early 1980s," said WRLT Conservation Director Jerry Becker. "I remember thinking 'It's too bad, I can't do anything about that." But that didn't stop Jerry from taking swift action when he learned the property was for sale in 2010. This piece of land (formerly known as the McGribble Tract) was up for sale by a regional timber company. Jerry worked to secure a loan and purchase the land from the willing seller, Roseburg Resources, in 2013, Jerry spent the next two years working on funding and carrying out the restoration. Today the free-flowing waters provide spawning, rearing, and migration corridors for coastal fish species and biological corridors for plants, mammals and birds. Jerry and the rest of the staff at Wild Rivers Land Trust are proud to present the Bear Creek Natural Area as a living demonstration of how effective conservation practices can create broad ecosystem impacts in a short amount of time.