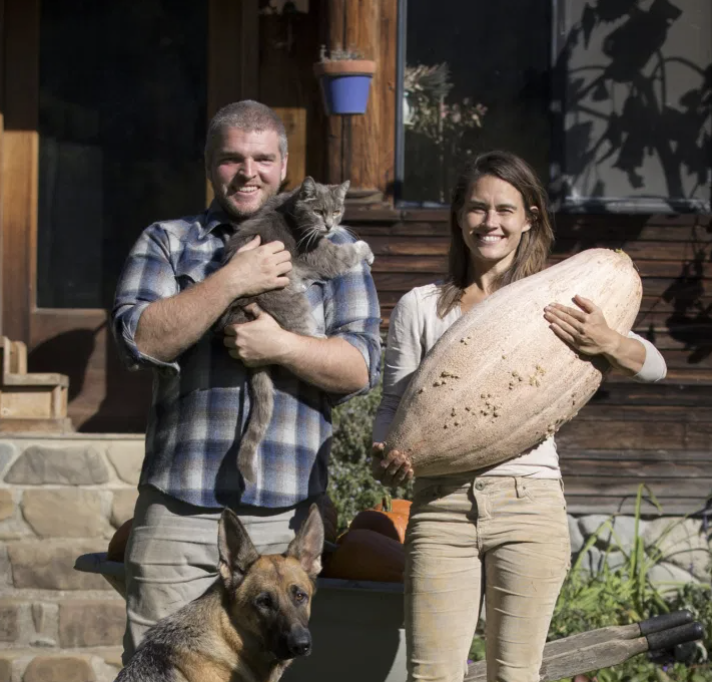 OUR COMMUNITY SPOTLIGHT:
Local Farmers Making a Difference
We are focusing on sustainable foods and products that support reduction of climate change by lowering transportation emissions and expanding local economy. This is often referred to as the triple bottom line: social, environmental & economic. If you are interested in being featured here on our website and in our newsletter, please email Pamela at pamela@wildriverslandtrust.org

Myrtle Glen Farm (MGF) is a small-scale farm and B&B owned and operated by Micha and Dan near Myrtle Point, Oregon. Their dreams of being self-sufficient growers of healthy food in a regenerative way, and sharing that experience with others, became a reality in 2014. They had always dreamed of owning an idyllic Bed and Breakfast in the middle of the forest, growing vegetables and fruit on site and serving farm-to-table meals to guests. Their two passions coalesced and were a natural fit with each other allowing them to feature agriculture, agritourism, and ecotourism. 
MGF's goal is to provide nutrient-dense food, fresh herbs, foraged dry leaf tea, flower bouquets, and value-added items to the local community. Travelers from all around the world bring tourism dollars into the community while learning the importance of farming sustainably, homesteading, and protecting the few remaining native forests in the Coast Range. Each year Micha and Dan host community events at the farm ranging from garden tours to culinary mushroom inoculation work-shops. They are a part of the Wwoof-USA organization, where volunteers interested in farming help out on the farm in exchange for education, food, and place to stay.
Maintaining a business in a rural community often requires flexibility to adapt and make changes. With the current pandemic, Dan and Micha began selling a Weekly Farm Box to their community members. Locals in Coquille and Coos Bay can purchase a farm box and other value-added products produced throughout the year. Coos-Head Co-op has been a wonderful advocate by promoting Myrtle Glen Farm's locally sourced produce over the past 6 years.
Future plans are somewhat up in the air for Micha and Dan's B&B since it's a tourism based business. They believe shutting down their B&B was the right thing to do for this season to curb the spread of Covid-19 and to protect the community from outside sources bringing in the virus. Part of having a goal of resiliency is moving in a different direction and putting skills of growing and foraging food to work for the community. They see the weekly farm-box program as a possibility to expand into a broader CSA program. They also hope to expand the production of herbal tea blends that they forage, cultivate, dry, and package and hope to sell more in local markets.
Dan and Micha are members of Coast Range Forest Watch, a local grassroots environmental organization focused on work surrounding the Elliott State Forest as well as broader forestry impacts, namely the practice of aerial spraying of toxic pesticides and how it impacts rural Oregonians and wildlife downstream. Micha is a board member of the Coquille Valley Seed Community and Dan is a board member of Coquille Watershed Organization.